STUFF!
Homegrown talent, DJ Eazy E, ChapterTHREE and Melissa Allison to support International stars Sybil and  Judy Boucher on Saturday 1st December 2018 at
Boardwalk Casino (PE) Festive Lawns
Marmalade Productions and CB Entertainment are proud to announce, DJ Eazy E, Chapter THREE and Melissa Allison to support international singing sensations, Sybil and Judy Boucher for one show only in Port Elizabeth on 1st December.  Cape Town's maestro Camillo Lombard and band will support all acts and the event will commence at 16h00 and will run for six hours.
DJ Eazy E has spent over 25 years honing his craft as a club and event dj. He has shared a stage/dj box with the top international and local stars including: Fatboy Slim(UK), Busta Rhymes & the Flipmode Squad, Roland Clark(USA), DJ Zinhle, Mi Casa, Crazy White Boy(Ryan Murgatroyd & Kosta K),  Roger Goode(5FM), Fresh(5FM), Euphonik(5fm), Dino Bravo(5FM), Dj Kent(5FM), Lady Lea, Loyiso, Craig de Sousa, Dj Cleo, Ready D, Dj Waxxy, Carl Cox, T Bose(Metro FM), Oskido, Jazzy D(JHB). He has recently shared the stage with international 90's artists, Sonia, Black Box & Lonnie Gordon. DJ Eazy E played sets at the internationally televised IPL Cricket in South Africa and a past winner of the Millers Draught Eastern Cape battle of the dj's.
ChapterTHREE is a vocal group established in 2008 and have performed at numerous functions and events covering songs from a wide range of eras and genre from the Manhattans' hits of the 70's to Bruno Mars' chart-busting singles of 2018. Their performances have often been described as entertaining, explosive, inspiring, touching and heartfelt because of their stage presence, dance routines and mesmerizing harmonies. It is this versatility that has seen ChapterTHREE, becoming one of the Eastern Cape's most sort after group. They have released several singles playlisted on local radio and have performed at some of the biggest events the Eastern Cape. They are also the winners of the Best Vocal Group category 2011 and Artist of The Year 2012 at the Bay FM Bay Area Music Awards. Continue reading →
"Umuntu ngumuntu ngabantu" this is the proverb meant to educate and inspire all around the continent as we reach the month of reconciliation, Simple Tone seems to be making sure that this time around this message is being echoed and heard around Africa with his new song titled We Are One, which will get everyone in the motherland dancing to their roots.
The Dj/Producer collaborates with Aruba beatz and house duo Black Motion on the project, the track is performed on a house tribal beat produced by Simple Tone, Aruba beatz and the magic touch of Black Motion. Truth be told, with a producer combination like this one, best believe your ears will be blown away with a splash of diversity.
Aruba Beatz vocalist kat does not hold back her pipes on her hook and verses; she really graces the song with her soulful voice and captures the true sound of Africa. The theme of the song tackles social problems like xenophobia, poverty, abuse and discrimination, and one must say the message is heartfelt in every beat.
So no matter how far you live or come from, whether you are from Botswana, Nigeria, Namibia, Lesotho or Zimbabwe, just pick up your music device and listen to Simple Tone as he unites Africa.
Chester Missing, South Africa's most vocal and politically-opinionated puppet is joining eNCA with a brand new show. Almost News with Chester Missing will air at 7:30pm on Sunday evenings from November 25.
The show will take an irreverent look at the current affairs landscape and put high-profile politicians through their paces in interviews only the country's most famous puppet can get away with. Chester Missing is, of course, delighted, "I have my own TV show. I'm a puppet. Have any of you realised how crazy this is? Someone tell Hlaudi. He broke ground for puppets everywhere."
Chester's creator Conrad Koch is equally thrilled, "Chester and I are hugely excited to be creating this show with South Africa's best news source, eNCA, and the amazing award-winning team at Diprente. South Africa has huge room for incisive, hilarious satire as we move towards elections next year. We want to make Almost News with Chester Missing both well researched and really, really funny."
Says eNCA's Editor-In-Chief Mapi Mhlangu, "Over many years Chester has become an integral part of the political firmament and has asked questions of our leaders no one else would dare to. And with one or two exceptions, politicians and business leaders love the interchange and are happy to participate. Chester also provides a release valve for South Africans who need to laugh at each other and themselves."
eMedia Investments will launch eReality, a television channel dedicated to showcasing premium reality television, exclusively on the Openview platform in November.
eReality will broadcast some of the world's most popular reality programmes, featuring real-life stories, fascinating personalities and human emotion in its rawest form. Some of the channel's compelling programmes include the popular Little Women: LA, Cheaters, Hoarding: Buried Alive, Pawn Stars, Botched! and Myth Busters.
Shows like Border Security: America's Frontline and Untold Stories of the ER will hook viewers, taking them into the worlds of law enforcement and emergency medicine. Fans of extreme adventure reality will be enthralled by the likes of Python Hunters and Running Wild with Bear Grylls. eReality will offer a peek at the peculiar, with shows like Dating Naked and My Strange Addiction.
eReality will also cater to true crime fans with a number of premium international crime documentaries and series, including Aaron Hernandez Uncovered, The Case Of Caylee Anthony, The Disappearance of Natalie Holloway, Unspeakable Crime: The Killing Of Jessica Chambers, #killerpost and Buried In The Backyard.
You've done the hard work – now it's time to claim your matric fame by using our matric exams website, brought to you in partnership with Educor, Southern Africa's largest private tertiary education provider.
If you're writing matric in 2018, click on the link above to read more or go straight to http://matric.sowetanlive.co.za right now to sign up – it's quick and easy, and you could win R10,000!
Once you have signed up, you can create a quick profile using your matric exam number. You can also upload a picture of yourself and tell us about your dreams for the future, along with other details.
When the results are released in January, we will link your result to your profile so that your achievement is no longer an anonymous number but something special linked to you and your plans.
https://www.timeslive.co.za/news/south-africa/2018-11-14-calling-all-matrics-claim-your-fame-and-you-could-win-r10000/
Johannesburg, 14 November 2018: Some of Africa's finest young artists will gather at The Sheds at 1 Fox Street this Saturday for what promises to be a one-of-a-kind visual art, music, fashion and food feast.
The second edition of One Source Live creative festival will be serving up an optical buffet bound to leave the crowd satiated. From Mzansi's darling of street fashion photography Trevor Stuurman and Kenya's surrealist marvel photographer Osborne Macharia, to pure untapped young talent, the art exhibition will offer up vibrant works of photographs, paintings, installations and exhibitions.
The sartorial lensman, Stuurman, has created a multi-discipline installation that incorporates stills photography and performance art, lending a live pulsating feel to his exhibition that will be on show at different times throughout the day.
Macharia, who was the toast of the continent earlier this year when he unveiled commissioned critically-acclaimed art pieces to celebrate the release of Black Panther, will wow aficionados and newbies alike with his intriguing works that play in the Afro-futurism and science fiction narratives.
Those with an eye for the new will be delighted with five large-scale 3D installations commissioned by some of SA's brightest young designers – Russell Abrahams, Seth Pimental, David Tshabalala, Keith Vlahakis and Lauren Mitchell. Look out for bottles of Absolut turned into works of art, social commentary via dynamic prints, vibrant palettes of energy, artistic reimagining of Africa and more showcases of an edgy youth spirit.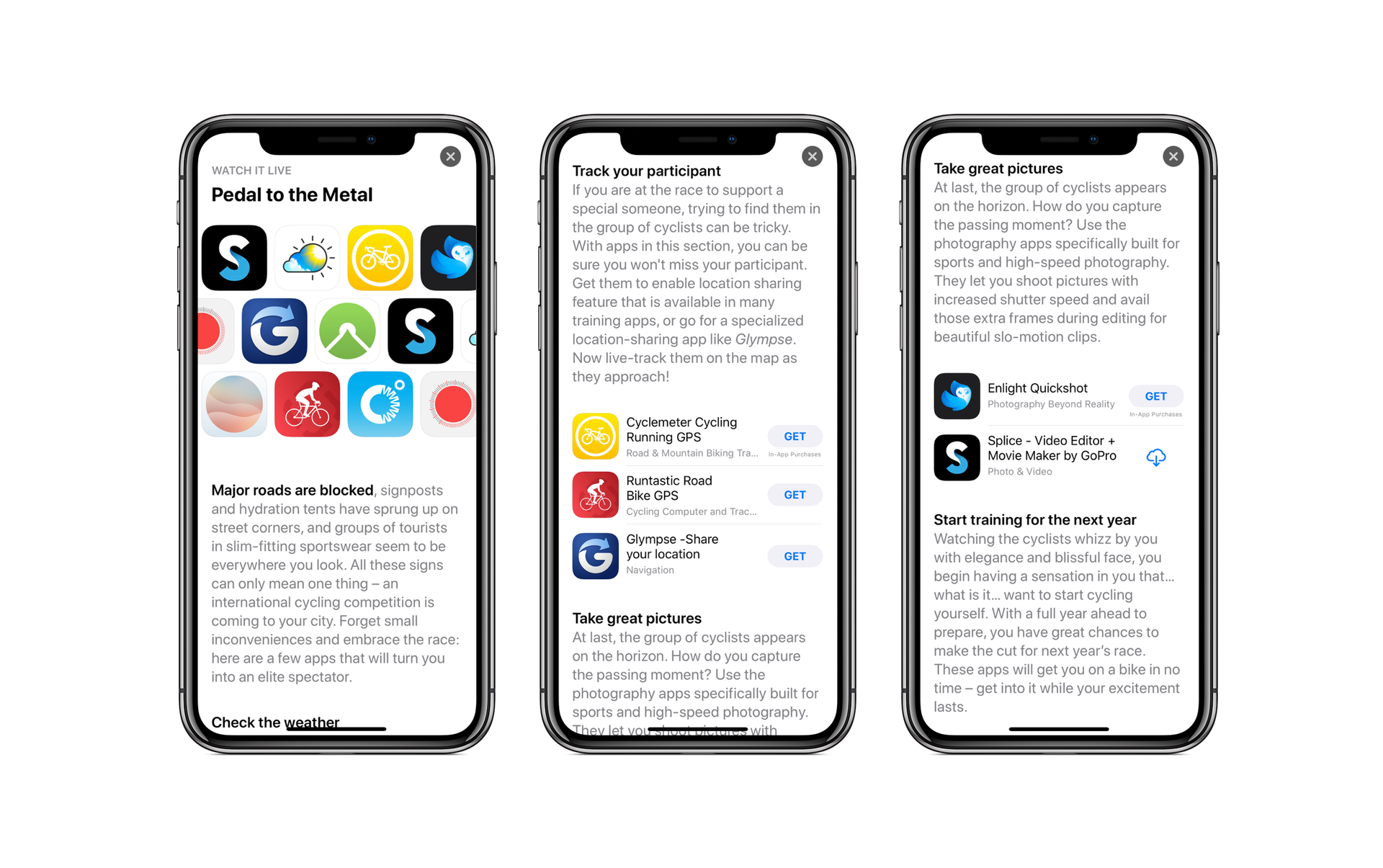 Nearly 30 000 cyclists, watched by even more spectators, will be taking to the Gauteng roads to celebrate the 22nd edition of the Telkom 947 Cycle Challenge this Sunday, 18 November.
Whether you're riding, watching, photographing or wanting to navigate the city and avoid the race route – there's an app for it, as the App Store looks to revolutionise the way both cyclists and spectators participate in live events.
The top 10 apps are:
Track your participant
If you are at the race to support a special someone, finding that person in a group of cyclists can be tricky.  Get them to enable a location sharing feature that is available in many training apps, or go for a specialised location app like Glympse where you can live-track them on the map as they do the race.
Cyclemeter Cycling Running GPS
Runtastic Road Bike GPS
Glympse – Share your Location
Take great pictures
How do you capture a group of cyclists on the horizon? Use the photography app Enlight Quickshot, built specially for sport and high-speed photography. It lets you shoot pictures with increased shutter speed and make extra frames available for editing slow motion clips.
Continue reading →
ACTRESS DINEO LUSENGA & TWO TIME NALEDI AWARD WINNING ACTRESS/DIRECTOR KHUTJO GREEN RETURN TO POP ART WITH THEIR HIT PLAY MIRAGE.
It's wedding season! But one woman is more excited at the prospect of planning these weddings, than getting married, herself. Actress Dineo Lusenga and Director Khutjo Green are making a return to Pop Art in Maboneng with their hit play Mirage from Thursday 22nd to Sunday 25th November.
"Why does society expect marriage to be everyone's desire?" This is the question Lusenga, and Green are tackling in their first ever stage collaboration "Mirage".
Mirage is a collaborative project between Wits BA Dramatic Arts graduates, Green and Lusenga, written and directed by two time Naledi award-winning Actress Khutjo Green, performed by Lusenga. Green is a proficient theatre practitioner, having performed in multiple stage productions such s TARTUFFE directed by Sylvaine Strike and the highly acclaimed Animal Farm directed by Neil Coppen and directed the Gcina Mhlophe written classic Have You Seen Zandile? We were also introduced to Green's television work on Skeem Sam' and recently Guilt, on SABC 2. Mirage is Lusenga's first stage work since her days as a Wits drama student. Her catalogue of television acting work includes shows such as Intersexions, Mutual Friends, Hard Copy, Nkamogeleng and her world acclaimed short film "Nomfundo".
PRIME FEST
Prime Circle embark on new journey with announcement of their own music & lifestyle festival: Prime Fest
Prime Circle, Riky Rick, GoodLuck, Jo Black, Mafikizolo, Fokofpolisiekar, Martin Bester and Band, Timo ODV, Majozi
There doesn't seem to be much that PRIME CIRCLE can't do well! They've got the countless awards; the sold-out local and internationals tours; the string of chart-topping hits and top-selling albums! They have stood the test of time as one of South Africa's biggest and best rock bands over the past 17 years. And they're now launching their own music and lifestyle festival, Prime Fest, on November 10 at Casalinga in Muldersdrift.
When PRIME CIRCLE started this new journey with the release of their most recent album, If You Don't You Never Will, the band decided that it was time to make their dream of starting their own music festival a reality. With the help of some friends, they managed to put together a powerhouse of musical acts.
The festival will feature a wide range of artists that the band have come to love sharing the stage with. The line-up will include some of SA's top acts across a variety of genres from rock to rap to dance in English, Zulu and Afrikaans. Riky Rick, Majozi, Jo Black, Mafikizolo, GoodLuck, Fokofpolisiekar, Timo ODV and Martin Bester and Band will join PRIME CIRCLE on stage.
After a two-year absence, well-known broadcaster Iman Rappetti returns to eNCA with a brand new talk show called Madam Speaker.
Airing Thursday nights at 9.30pm, Iman will put newsmakers through their paces in front of a small group of ordinary South Africans. After her interrogation, the audience panel will have their chance to put their questions forward and state their views.
Weekly topics will range from politics and the economy to pressing social issues as well as arts and culture and religion. The idea is to give concerned citizens a chance to hear first-hand how real problems are being dealt with at the highest level and the opportunity to talk back.
Notes eNCA Editor-In-Chief Mapi Mhlangu, "Iman is a well-known face on the station and among the most accomplished talk show hosts in the country. She brings with her high energy, huge empathy and a real understanding of the daily battles South Africans are undergoing and for which they are demanding answers and accountability."
Madam Speaker will also have a strong social media component, and eNCA's viewers will have a chance to engage with all the guests.
"While I will continue with my work on radio, television broadcasting is in my blood, and I look forward to this exciting weekly interchange where South Africans can state their case first hand and press for answers on issues impacting on their lives," says Iman. "My job will be to guide the discussion, but you all know me, I'm not short of opinions either!"
A search is already underway for audience panel members, some of whom are expected to become regular personalities in their own right.
Madam Speaker debuts on eNCA on Thursday, 22 November at 9:30pm.