Nolusindiso Booi believes the Springbok Women are on the right track as they prepare to take on Spain in the second Test on their European tour on Saturday.
After going down 19-5 in a spirited performance against Wales last weekend, the Springbok Women's captain was confident that her charges would be better prepared mentally for Saturday's Test at Campo de Rugby in Villajoyosa.
"The performance against Wales was good from a confidence perspective; it showed we are on the right track," said Booi.
"It was our first Test in a few years and we had a new team, so hopefully we can build on that performance against Spain.
"With most of the players having had a taste of Test rugby against Wales, I think we will be better prepared for the challenge ahead because we know what to expect and what we need to do as a team."
The Springbok Women started their preparations for the clash against Spain on Monday after a travel and recovery day on Sunday, and Booi said they had settled in well after making the journey from Cardiff.
EVENTS:
LEKKER LAG AFRIKAANSE KOMEDIEFEES – SAT 1 DEC, GRAND ARENA featuring Emo Adams, Joe Barber se Boeta Gamat en Boeta Joe, Shimmy Isaacs, Piet Potgieter, Melt Sieberhagen, Hannes Brummer. More info on: http://capetowncomedy.com/lekkerlag/ (Poster attached)
THE GOLIATH COMEDY ROAD TRIP – 17 & 18 NOV. South Africa's most loved and versatile comedy trio, Jason, Donovan and Nicholas Goliath of GOLIATH AND GOLIATH, have been touring South Africa and performing as a collective for the very first time! This leg of the Goliath Comedy Road Trip also marks the first time that the trio will be performing at Cape Town Comedy Club. http://capetowncomedy.com/goliath/ (Poster & Press Release attached)
SPECIALS: Continue reading →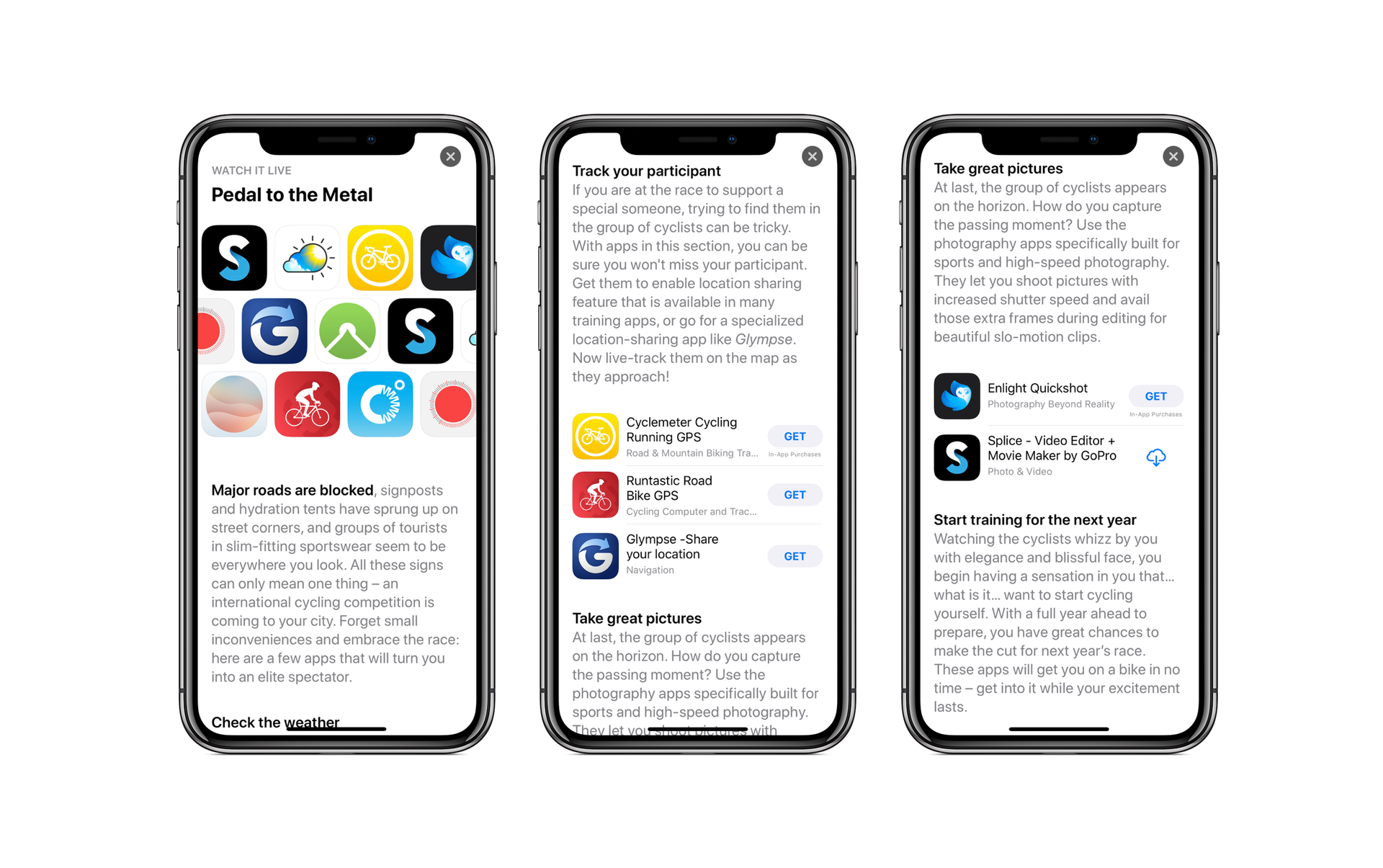 Nearly 30 000 cyclists, watched by even more spectators, will be taking to the Gauteng roads to celebrate the 22nd edition of the Telkom 947 Cycle Challenge this Sunday, 18 November.
Whether you're riding, watching, photographing or wanting to navigate the city and avoid the race route – there's an app for it, as the App Store looks to revolutionise the way both cyclists and spectators participate in live events.
The top 10 apps are:
Track your participant
If you are at the race to support a special someone, finding that person in a group of cyclists can be tricky.  Get them to enable a location sharing feature that is available in many training apps, or go for a specialised location app like Glympse where you can live-track them on the map as they do the race.
Cyclemeter Cycling Running GPS
Runtastic Road Bike GPS
Glympse – Share your Location
Take great pictures
How do you capture a group of cyclists on the horizon? Use the photography app Enlight Quickshot, built specially for sport and high-speed photography. It lets you shoot pictures with increased shutter speed and make extra frames available for editing slow motion clips.
Continue reading →
WORLD'S PREMIER ROCK SPECTACULAR, QUEEN: IT'S A KINDA OF MAGIC, RETURNS TO CAPE TOWN FOR ONE-NIGHT ONLY AT GRANDWEST CASINO AND ENTERTAINMENT WORLD IN JANUARY 2019
Queen: It's a Kinda Magic @ Grand Arena, Grand WestCasino and Entertainment World – 12 January 2019
Presented by Showtime Australia
Three years after impressing Cape Town audiences with the ultimate Queen tribute performance in 2015, Queen: It's a Kinda Magic returns to The Mother City in January 2019 for a special one-night only performance at the majestic Grand Arena at GrandWest Casino and Entertainment World.
Showcasing an arena rock spectacular with the most sensational tribute ever staged, Queen: It's a Kinda Magic is set to recreate Queen's historically famous 1986 World Tour concert on stage in SA.
If you're wanting to kick off 2019 with a bang, this show gives ultimate rock fan the chance to go "Ga Ga" by singing and dancing along to some of the most classic rock hits of our generation.
The City of Cape Town is stunned and saddened by the murder of two security guards working on-site at the Sweet Home Incremental Development Area (IDA) in Philippi which is currently under construction. The two guards were shot and killed on Sunday evening as they began their shift to protect the development from thieves and vandals who have been targeting the contractor's equipment.
An IDA is a development where residents are given designated plots which are upgraded to formal houses over time.
These guards worked for the third consecutive security company hired to protect the site. Two previous security companies were unwilling to continue working in the area due to criminals violently targeting the development. The City has also attempted to employ people from the surrounding community. However, they also resigned due to fears for their safety.
14 November 2018
Provincial Minister of Community Safety, Alan Winde has committed himself to collaborating and partnering with various stakeholders in the safety sector, to work towards making this province the safest in the country.
Speaking during the conclusion of the two-day Safer Western Cape Conference, which was held at the River Club in Observatory, Minister Winde said: "Making the Western Cape the safest province in the country will require a whole of society approach. I thank all the role players, SAPS, local and international experts, academics, civil society partners, all three spheres of government and community stakeholders, such as Neighbourhood Watches (NHW) and Community Policing Forums (CPF) for their inputs and proposals. It once again became abundantly clear that we are all responsible for safety in our society."
The conference emphasized the complexity of the challenges we are faced with on our quest to become the safest province on the African Continent. There are clearly no silver bullets or one dimensional solutions to crime and violence. This must however not deter us from pushing back against the onslaught of criminals and those willing to use violence.
The conference clearly demonstrated the direct link between the availability of firearms and murders in the province, and this requires immediate intervention.
"Is it a bird or a plane?" This question will be answered on 04 December, when the streets will be awash with the colours of popular superhero characters at this year's annual Twilight Run/Walk.
Community Chest is calling for everyone to don their favourite cape, in celebration of being a hero.
The iconic event was founded 36 years ago with the goal of donating all proceeds to deserving organisations and communities. The untimed, 5km race is famous for its runners dressing in the most outrageous and creative costumes.
The event is the only one of its kind in the Mother City and has grown exponentially since its inception. The race kicks off in Darling Street (next to the Grand Parade) and takes participants along Adderley Street, Bree Street and the scenic Company's Garden.
"We're inviting everyday heroes, families and corporates to take to the streets of Cape Town for charity," says Lorenzo Davids, CEO of Community Chest Western Cape.
With this year's media partner, Good Hope FM, and a number of well-known South Africans taking part, Davids reckons the event holds appeal for everyone.
"In the spirit of Capetonian generosity, help us ring in the Cape Town Festive Season by participating in our biggest public fundraiser."
ACTRESS DINEO LUSENGA & TWO TIME NALEDI AWARD WINNING ACTRESS/DIRECTOR KHUTJO GREEN RETURN TO POP ART WITH THEIR HIT PLAY MIRAGE.
It's wedding season! But one woman is more excited at the prospect of planning these weddings, than getting married, herself. Actress Dineo Lusenga and Director Khutjo Green are making a return to Pop Art in Maboneng with their hit play Mirage from Thursday 22nd to Sunday 25th November.
"Why does society expect marriage to be everyone's desire?" This is the question Lusenga, and Green are tackling in their first ever stage collaboration "Mirage".
Mirage is a collaborative project between Wits BA Dramatic Arts graduates, Green and Lusenga, written and directed by two time Naledi award-winning Actress Khutjo Green, performed by Lusenga. Green is a proficient theatre practitioner, having performed in multiple stage productions such s TARTUFFE directed by Sylvaine Strike and the highly acclaimed Animal Farm directed by Neil Coppen and directed the Gcina Mhlophe written classic Have You Seen Zandile? We were also introduced to Green's television work on Skeem Sam' and recently Guilt, on SABC 2. Mirage is Lusenga's first stage work since her days as a Wits drama student. Her catalogue of television acting work includes shows such as Intersexions, Mutual Friends, Hard Copy, Nkamogeleng and her world acclaimed short film "Nomfundo".